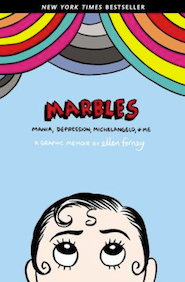 Marbles: Mania, Depression, Michelangelo, and Me by Ellen Forney
ISBN-13: 9781592407323

Synopsis: "Cartoonist Ellen Forney explores the relationship between "crazy" and "creative" in this graphic memoir of her bipolar disorder, woven with stories of famous bipolar artists and writers.
Shortly before her thirtieth birthday, Forney was diagnosed with bipolar disorder. Flagrantly manic and terrified that medications would cause her to lose creativity, she began a years-long struggle to find mental stability while retaining her passions and creativity.
Searching to make sense of the popular concept of the crazy artist, she finds inspiration from the lives and work of other artists and writers who suffered from mood disorders, including Vincent van Gogh, Georgia O'Keeffe, William Styron, and Sylvia Plath. She also researches the clinical aspects of bipolar disorder, including the strengths and limitations of various treatments and medications, and what studies tell us about the conundrum of attempting to "cure" an otherwise brilliant mind.
Darkly funny and intensely personal, Forney's memoir provides a visceral glimpse into the effects of a mood disorder on an artist's work, as she shares her own story through bold black-and-white images and evocative prose."
Review: Graphic Memoirs are some of my favorite memoirs. Off the top of my head, Maus by Art Spiegelman and Persepolis by Marjane Satrapi are wo that shape my opinion of graphic memoirs. Ellen Forney's is a little bit different as it chronicles her journey once she discovered she had bipolar disorder shortly before her thirtieth birthday. In order to cope with this diagnosis, Ellen researches other creatives whose art thrived in spite of their illnesses. Or were they successful because of their mental illnesses? Despite these unanswered questions, Ellen finds comfort in learning more about these creatives and their illnesses. It's a comfort for her to know that she is not alone. She even coined the Club Van Gogh whose members were the likes of Sylvia Plath, Anne Sexton, Jackson Pollock, Jean-Michel Basquiat, Georgia O'Keeffe, and of course, Van Gogh.
She discusses all of the medicine she took trying to help her day to day with her disorder. She describes her ups and downs so vividly that you, the reader, are also taken there, right along side her.
As a graphic memoir, it was a quick read. I believe I finished this one in two days as well. Ellen ends up becoming stable enough to accept herself and her illness. This book is a reflection of her journey and it is done with honesty and vulnerability.