It has been a while since I have made cookies. Matt kept harassing me about it, but I guess it's because my mom's kitchen is so much smaller with way less counter space than the apartment. My mom always complains when I make too big of a mess, too. Chocolate can get messy! I can't help that! The last time I saw my dear Erin, she told me the next time I baked something that I should brown the butter. It makes it taste amazing. Well, Erin is a little chef in the making so I listened to her advice and it brought out the greatest flavors in the chocolate and toffee. I always use dark brown sugar, as opposed to your run of the mill light or golden brown sugar. I just prefer the way it flavors things, so rich and dark. I decided to make a variation of my chocolate toffee cookies, except I skipped the cocoa powder. Here we go: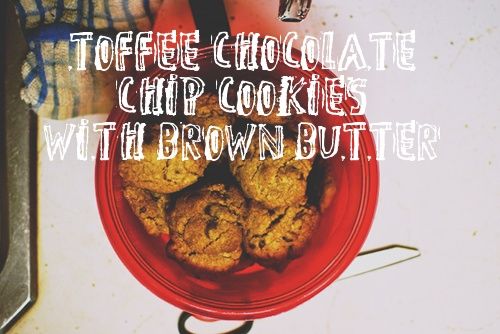 Ingredients
2 3/4 cups all-purpose flour
1 tsp. baking soda
1 tsp. salt
1 cup(2 sticks) butter, browned*
3/4 cup granulated sugar
3/4 cup packed dark brown sugar
1 tsp. vanilla extract
2 large eggs
2 cups semi-sweet chocolate chips
1 1/3 cup toffee bits
*This site had really simple instructions on how to brown butter properly. It gives the cookies a nutty flavor that enhances the toffee.

1.Preheat the oven to 375 degrees.
2.Combine flour, baking soda, and salt in a medium bowl.
3.Beat butter, sugars, and vanilla extract in a large bowl until creamy.
4.Add one egg at a time, stirring to combine between each addition.
5.Combine flour mixture with butter-sugars-egg mixture using a plastic spatula. Add chocolate chips and toffee bits.
6.Drop a rounded tablespoonful of dough onto cookie sheet with parchment paper. Bake approximately 9-12 minutes.