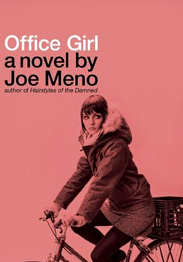 Office Girl by Joe Meno
ISBN-13: 9781617750762

Synopsis: "No one dies in Office Girl. Nobody talks about the international political situation. There is no mention of any economic collapse. Nothing takes place during a World War.
Instead, this novel is about young people doing interesting things in the final moments of the last century. Odile is a lovely twenty-three-year-old art-school dropout, a minor vandal, and a hopeless dreamer. Jack is a twenty-five-year-old shirker who's most happy capturing the endless noises of the city on his out-of-date tape recorder. Together they decide to start their own art movement in defiance of a contemporary culture made dull by both the tedious and the obvious. Set in February 1999—just before the end of one world and the beginning of another—Office Girl is the story of two people caught between the uncertainty of their futures and the all-too-brief moments of modern life."

Review: I breezed through this book. I loved every minute of it. It just moved quickly, especially since some chapters were just a paragraph or sentence long. There were little illustrations and photographs. I enjoyed it immensely. It kind of made the reader feel in on their movement. The only other Joe Meno book I have read is Hairstyles of the Damned. That was about seven years ago, but I do remember enjoying reading what he wrote. I enjoyed the second book I have read by Meno and look forward to possibly going through all of the things he has written. It should be fun since I've heard good things about The Boy Detective Fails.