In my sidebar to the left, I have a list of the blogs I follow and read on an almost daily basis. I thought I would include a little blurb about why I follow each of these blogs.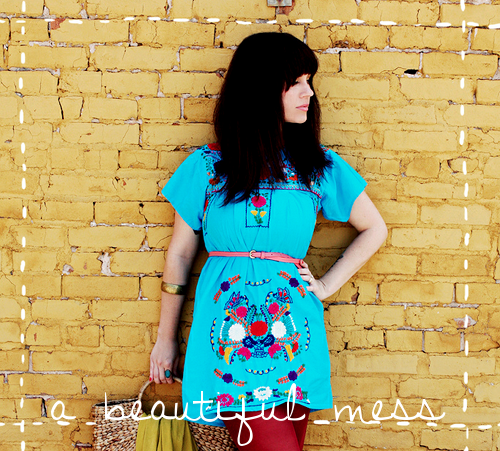 A Beautiful Mess has a lot of different things going on. There are different contributors, but it is all put together by Elsie Larson, co-founder of Red Velvet. There are crafts, photography, and fashion. Just a little bit for everyone. She even has a few Tips for Bloggers and Tips for Photographers.
A Lost Feather is run by Sarah from New York. She hikes, takes dreamy photographs, and runs a sweet Etsy shop. I even own an awesome red camera necklace from her! I also really enjoy her illustrations.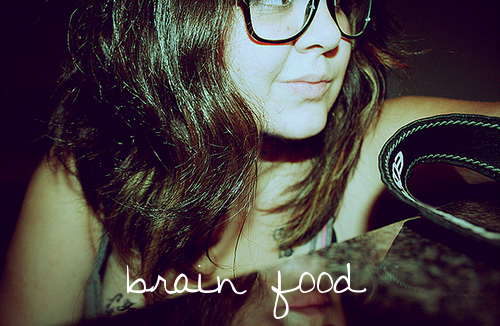 Brain Food is a blog run by Kyoko Escamilla. In between posting about her adventures abroad and at home, she posts great art by young artists. She is also an excellent photographer. She posts often about her pets and her love of comic books. She also posts really honestly about her thoughts and life observations. They're sometimes lengthy, sometimes just a short paragraph, but I read them all. They're wonderful.

Clussster is a very inspiring blog run by Fi. She lives in Puerto Rico and works for SALE.com as the Accounts Coordinator, as well as a Social Media correspondent for various local brands. I enjoy her design aesthetic, as well as her posts about food as she explores nutrition as a way to keep her from being sick all of the time.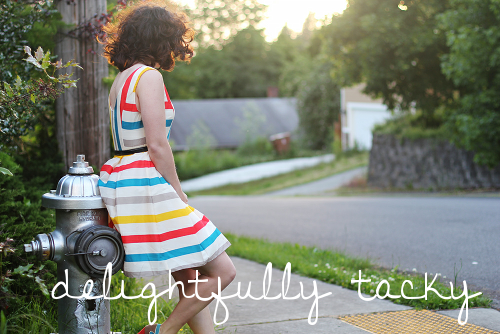 Delightfully Tacky is the blog that inspired me to start my own blog. I have followed Elizabeth since 2009 and I don't see myself stopping unless she stops blogging. I love how the blog has evolved as Elizabeth's life has evolved. Who likes static and fakeness? I enjoy Elizabeth's genuine posts and carefree style.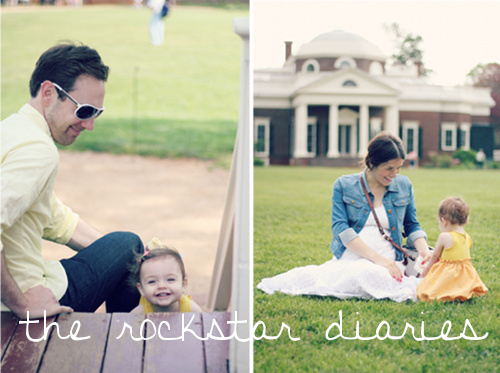 The Rockstar Diaries is a blog I started following last year. I'm sure my friends all think I'm crazy when I show them pictures of Eleanor and say,"Isn't this the most adorable baby?!" Truly a beautiful family and wonderful blog. When I first found this blog, I went back quite far to learn their history and I've been hooked ever since. They just welcomed a new addition to their little family, baby boy Samson.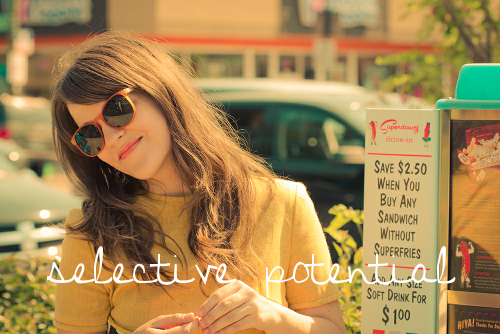 Selective Potential is a blog I followed as a result of following Elizabeth. I even took an e-course that Elizabeth and Tieka put together. They both really inspired me and helped me focus my blog and pay attention to design aesthetic. I'm still learning, but I like everything I have done since I took that course so...hooray!
Skylarking Nanny is a blog I only recently started following. We exchanged a few comments and buttons and voila! I started to read! I enjoy her entries because they're very honest and have a voice that is distinctly her own. I feel like I don't hear myself when I read my entries. I'm really working on that, but I feel like Elle has got it down. I'm enjoying following this blog and can't wait to read more in the future.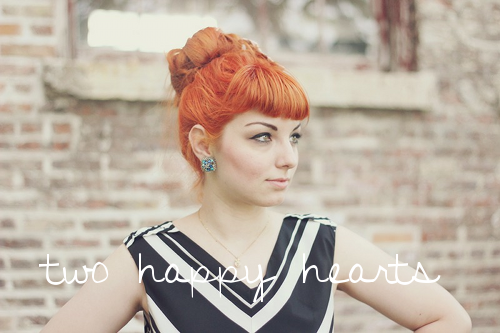 Two Happy Hearts literally makes me smile when I read it. I'm not kidding and it probably sounds creepy. I'm sorry if it sounds creepy, but I love a lot of things about this blog. I found it a couple of months ago and I love her style, as well as the Twin Style feature that she has with her twin, Kylie. She also has this sweet pink winter coat that I adore!