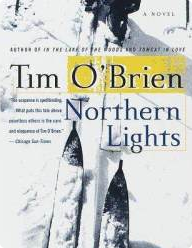 Northern Lights by Tim O'Brien
ISBN-13: 9780767904414

Synopsis: Originally published in 1975, Tim O'Brien's debut novel demonstrates the emotional complexity and enthralling narrative tension that later earned him the National Book Award. At its core is the relationship between two brothers: one who went to Vietnam and one who stayed at home. As the two brothers struggle against an unexpected blizzard in Minnesota's remote north woods, what they discover about themselves and each other will change both of them for ever.

Review: My first Tim O'Brien book was The Things They Carried. I thought I would try something that wasn't set in a combat zone. In a sense, it was a combat zone...of the mind. I had to will myself to finish. I can't lie about that. I have a horrible habit of not finishing books I end up not being too thrilled with. I wanted to find out what the great revelation was that they had while stuck in the wilderness. It wasn't anything that jumped out at you. When I finished the book, I was unsure if the book delivered what the synopsis promised. Upon closer inspection, in a quiet way, the book did fulfill the discovery of self and each other. It also fulfilled an unexpected mission, which was to leave a lot of loose ends. I don't feel like Northern Lights had the same impact as The Things They Carried. The latter, I devoured. I couldn't get enough of his writing. Since this was his debut novel, I won't hold it against him. I even bought a different title of his to try again because I want that feeling I had when reading The Things They Carried. So, if you want a Tim O'Brien title to read and not sure where to start? Don't start with this one. Maybe leave it until the very end of your venture into the world of Tim O'Brien. Definitely start with The Things They Carried.

SIDENOTE: I know it's supposed to be "Wordless Wednesday", but I'm not prepared (fail) and I have too many words . What that means is I have a backlog of books I have read and have yet to review so I'll be trying to catch up on that.