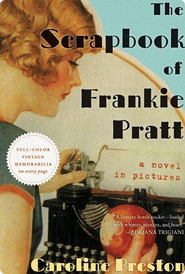 The Scrapbook of Frankie Pratt by Caroline Preston
ISBN-13: 9780061966903

Synopsis: "For her graduation from high school in 1920, Frankie Pratt receives a scrapbook and her father's old Corona typewriter. Despite Frankie's dreams of becoming a writer, she must forgo a college scholarship to help her widowed mother. But when a mysterious Captain James sweeps her off her feet, her mother finds a way to protect Frankie from the less-than-noble intentions of her unsuitable beau."

Review: If you enjoy looking through scrapbooks and vintage memorabilia, read this book. I felt like the story itself was a bit generic. The plot, where she must sacrifice her future for her family and then said family tries to screw with her love life, seems like it has been done before. She then must rebel and becomes an ex-pat in France, where she lives above Shakespeare & Co. I'm not saying it is a bad book; not at all. I'm just saying if you're looking for a meatier storyline, this isn't it. If you're looking to enjoy some vintage memorabilia with a story behind it, then definitely read it.