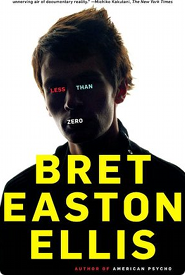 Less Than Zero by Bret Easton Ellis
ISBN-13: 9780679781493

Synopsis: "Set in Los Angeles in the early 1980s, this coolly mesmerizing novel is a raw, powerful portrait of a lost generation. They experienced sex, drugs, and disaffection at too early an age, and lived in a world shaped by casual nihilism, passivity, and too much money.

Clay comes home for Christmas vacation from his Eastern college and reenters a landscape of limitless privilege and absolute moral entropy, where everyone drives Porsches, dines at Spago, and snorts mountains of cocaine. He tries to renew his feelings for his girlfriend, Blair, and for his best friend from high school, Julian, who is careering into hustling and heroin. Clay's holiday turns into a dizzying spiral of desperation that takes him through the relentless parties in glitzy mansions, seedy bars, and underground rock clubs, and also into the seamy world of L.A. after dark."

Review: For those of you who don't know, Bret Easton Ellis also wrote American Psycho, The Informers, and The Rules of Attraction, which, along with this book, were also made into movies. I have never seen any of these movies nor read any other Ellis books. I thought I would start with his first. I was hooked from the beginning. The style reminded me a lot of when I would read Chuck Palahniuk. It's straight-forward and kind of graphic. It makes you cringe at times, possibly even physically uncomfortable. But that's okay! That means that it is well written, so well written that it has caused physical discomfort! I devoured this book in two days. I didn't want to put it down! The next one on the list for this author is Rules of Attraction, but maybe I'll pause to read some Tim O'Brien.