I love Halloween. It is something I look forward to every year. After a lackluster costume last year, I had to do it up right this time around. If you read my tumblr, you already know I was going as Joan from Mad Men.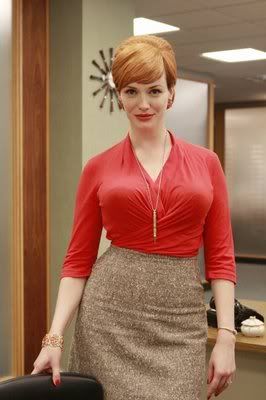 This was the first year that Alex and I did a couple-y costume. He usually wants to do something ridiculous from SNL, although one year, he was Wolverine. Ahhh, good times. This year, I got him to be Don Draper and wow, I know how to throw together his costumes at the last second like a PRO. Seriously. We went shopping for his costume two hours before I was supposed to be at work. It was kind of ridiculous, but ended up working out. I also happened to pick up a different dress because the fit was slightly off on the vintage dress I originally bought.

Joanie


Don


Lisa (on the left) didn't have a costume (costumes required!) so Stephanie (on the right) gave her a cape and made her into Dracula. Erika (center) was from The Birds.


Justin also lacked a costume so we made him a "Roller disco queen"


Can-can girl


Man in the Yellow Hat & Curious George
How was your Halloween weekend?